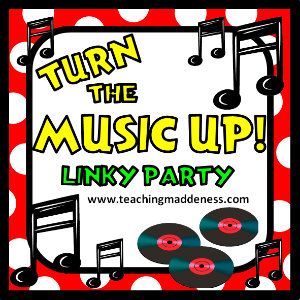 I really, really, Really want to add more music into my school day! So I was super happy to see a Linky Party about just such a thing.
Teaching Maddeness is having a Turn the Music Up Party!
Education Music I use:
(
Rock N Learn Addition and Subtraction Rap
)
I bought this music DVD last summer. I was looking for something fun to help my kiddos with their math facts. I had decided to try to hit those in as many different ways as I could. I really like part of the songs - they have good ones for adding zeros, ones, and doubles. My students really liked the songs and it wasn't too "rappy" if you know what I mean.
I also used some phonics songs from Between the Lions.
In particular, I used songs for ar, oo, and ee. You can find these on their website site (but sometimes its a little hard to find them there) or go to YouTube and type in the phonics pattern you are looking for.
I went to a Kim Sutton workshop earlier this summer and she uses Ron Brown from Intellitunes music, so I've bought a couple CDs. One is called Math Beats and the other is Addition (I'm really trying to get those math facts stuck in their heads :)
Fun Music: Well, the sad fact can be summed up by what one of my students said to me at the end of the school year, "Why don't you have any good music?" I have a couple Disney CDs and some other music my daughter listened to when she was about in 2nd grade. I just don't understand why they don't think that is cool :)
I do love Louis Armstrong, and I played his greatest hits; and other older music that is just a tad bit more mellow.
Looking for: I'm looking for some motivational type music. That was something that Kim Sutton encouraged - using music as a motivator to get work done - for example, here's a song, you need to finish cutting that out by the time it is done. I have a couple ideas floating in my head, but I'd love to see what others are doing. If you use music in your room, what do you play? Videos? CDs? From your phone or computer?
I'd love to see you Link Up to Teaching Maddeness!
Sara